To be eaten warm or cold, socca is perfect as an aperitif, accompanied by fresh cheese, small vegetables, etc.
Our recipe
Water – 62%
Chickpea Flour – 31.1%
Olive oil – 6.2%
Salt – 0.7%
Pepper – 0.01%
Our process
Mix together the chickpea flour, salt and pepper ;
Gradually add the olive oil and water while mixing with a whisk at medium speed ;
Let it rest for 1h at 4°C ;
Pour 3mm of dough in an oiled round mould preheated at 250°C ;
Bake for 9 min at 250°C with high ventilation.
List of ingredients
Water, Chickpea flour, Olive oil, Salt, Pepper.
Other recipes that may interest you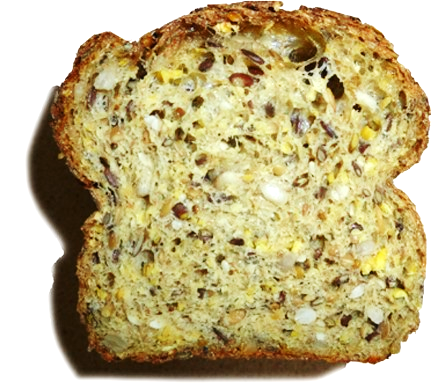 Hyperprotein Seeds Bread
Rich in proteins, fibres, omega 3, phosphorus, magnesium, manganese & copper
View all our recipes