Rich in fibres & Source of protein
Our recipe
T65 Wheat flour – 23.2%
TT-B Green lentil flour – 23.2%
Unsalted butter – 18.6%
Grated Parmesan cheese- 11.8%
Eggs – 9.8%
Water – 6.4%
Nigella seeds – 3.9%
Salt – 1.2%
Baking powder – 1%
Cumin – 0.7%
Pepper – 0.2%
Our process
In a food processor, blend the butter and the dry ingredients for 2 minutes at a low speed.
Add the water and eggs for 1 minute at a low speed.
Let the dough rest for 30 minutes at 4°C.
Roll out the crackers to a 4mm thickness and cut them with a 3cm round cookie cutter.
Let the crackers rest for 30 minutes at 4°C.
Bake 14 minutes at 170°C with medium ventilation.
List of ingredients
Green lentil flour, Wheat flour, Butter, Parmesan cheese, Eggs, Nigella seeds, Salt, Baking powder (E450, E500ii), Cumin, Pepper.
Allergens: Dairy, Gluten.
Associated products
No associated products at the moment
Other recipes that may interest you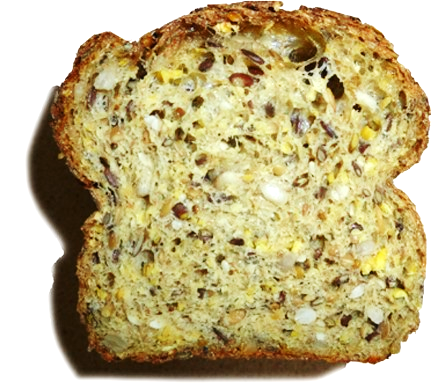 Hyperprotein Seeds Bread
Rich in proteins, fibres, omega 3, phosphorus, magnesium, manganese & copper
Red Lentil Shortcrust Pastry
The red lentil flour gives a more appetizing colour without affecting the taste or texture…
View all our recipes